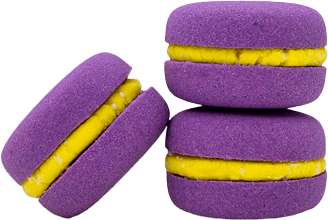 Passion Fruit Macabomb
Enjoy a moisturizing and refreshing bath with this Passion Fruit-Scented Macabomb. Its composition rich in cocoa and shea butter, combined with avocado oil provides a unique softness and nutrition to skin and hair. Make your bath one that adds moisture to your skin and colour and aroma to your experience.
Cocoa butter has regenerative and anti-cellulite properties. It makes the skin supple and reduces the appearance of wrinkles and stretch marks. Thanks to its moisturizing ability, it also helps damaged hair, providing softness and shine. Shea butter is ideal for all skin types, possessing regenerative, healing, anti-inflammatory and UV protection properties.
Macabombs combine the best properties of a highly moisturizing bath milk with the effervescence, colour and aroma of a bath bomb.
Ingredients: Sodium Bicarbonate, Citric Acid, Sodium Chloride, Persea Gratissima (Avocado) Oil, Theobroma Cacao (Cocoa) Seed Butter, Zea Mays (Corn) Starch, Butyrospermum Parkii (Shea) Butter, Parfum, Aqua, BHT, Benzyl Salicylate, Citronellol, Limonene, Linalool, CI 19140, CI 42090, CI 16255.
How to use: Remove the transparent film and toss the Macabomb into the bathtub. Use warm or hot water (35ºC-39ºC) to obtain optimum moisturizing and effervescent results.
Buy now 5 Elementos cosmetics
with all the benefits:






DO YOU HAVE ANY QUESTIONS ABOUT THIS OR OTHER PRODUCTS IN FINCA LA PONTEZUELA?
Provide us with your information and we will contact you as soon as possible.
Service available from Monday to Thursday from 08:30 to 18:00 and Friday from 08:00 to 15:00 (Madrid GMT +1)
DO YOU HAVE ANY QUESTIONS ABOUT THIS OR OTHER PRODUCTS IN FINCA LA PONTEZUELA?
Provide us with your information and we will contact you as soon as possible.
Service available from Monday to Thursday from 08:30 to 18:00 and Friday from 08:00 to 15:00 (Madrid GMT +1)
Discover other related products