Interpretation Centre
Discover the 5 Elementos Olive Grove Interpretation Centre.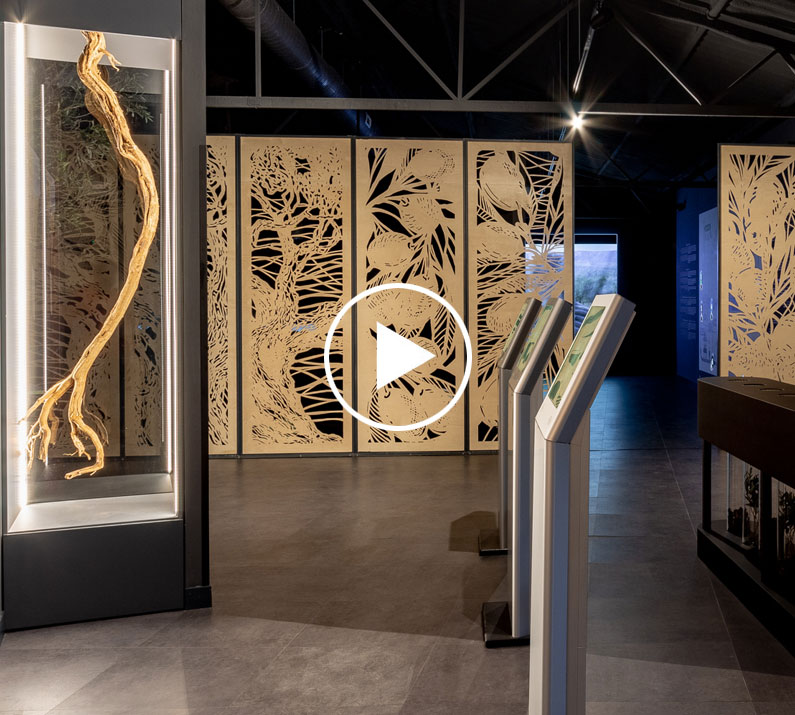 Welcome to the EVOO Experience at Finca La Pontezuela.
Our recently inaugurated 5 Elementos Olive Grove Interpretation Centre is a unique national and international project that serves as a model for oleo-tourism. It is located in a beautiful natural setting with breath-taking views of the Montes de Toledo and is very close to the Cabañeros National Park. Finca La Pontezuela is a jewel to discover.
During the visit, you will learn about traditional olive grove culture in a distinctive, natural and singular environment. We are surrounded by flora and fauna that visitors can take in while learning the ins and outs of making one of the best Extra Virgin Olive Oils in the world: 5 Elementos.
The 5 Elementos Olive Grove Interpretation Centre was created to promote and spread the culture of the olive grove and disseminate knowledge of this rich olive juice. Extra Virgin Olive Oil is a key ingredient of the Mediterranean diet and recommended to maintain good health.
We have dedicated 600 m2 (6500 ft2) so that visitors may get acquainted with the olive grove and its surroundings. The space is complete with surprises, novelties, and state-of-the-art interactive activities that will help you fully understand the world of olive cultivation in Toledo.
The Olive Grove Interpretation Centre (OGIC) has two spaces: Reception area and the Caja Negra (Black Box).
A tour of the 5 Elementos Olive Grove Interpretation Centre.
Reception: A journey through time.
In the Reception, guests will discover the Region of La Jara, its historical and cultural wealth and its olive tradition.
Visitors also will get to know the origin of Finca La Pontezuela and will have the opportunity to participate in the project that our ancestors envisioned, and that today, we continue with the same passion and enthusiasm.
Visit to the 5 Elementos Olive Grove Interpretation Centre: An authentic sensory and interactive journey.
In the Caja Negra, you will fully experience the olive grove ecosystem.
We recreate each season in our centenary olive tree groves, demonstrating in flash moments the phases of flowering, fruit development and the ripening of the olives.
Visitors will learn about the cultivation techniques used at Finca La Pontezuela as well as theproduction of the EVOOs. To better understand this process, we have designed an interactive oil mill that shows the physicochemical processes that occur inside the mill, malaxer and centrifuges.
We also have a multisensory experience where guests can smell, feel and taste all of the natural elements contained in our EVOO.
EVOO Tasting: A sensory experience
We will awaken your hidden sensesand taste buds, through a sensory tasting experience with our 5 Elementos Extra Virgin Olive Oil.
You will discover the characteristics and learn how to pair our 5 varieties of olives all grown at Finca La Pontezuela: Picual, Cornicabra, Hojiblanca, Arbequinaand Redondilla.
This knowledge will help you to enhance your dishes while caring for your and your loved-one's health. This is key to appreciate the richness and versatility of our pure 100% natural olive juice: 5 Elementos EVOO.
Our state of the art centre will make your visit unforgettable with video mapping, touch walls, magic books, etc. Our tour is fully interactive so you can enjoy learning and learn while enjoying.
So come and enjoy a unique, educational experience surrounded by nature at the 5 Elementos Olive Grove Interpretation Centre. It is your best plan whether you are traveling solo, with friends or with your family. Come and visit us!
COVID-19 protocol for visits.




La Pontezuela takes your health very seriously. We have prepared a strict protocol to follow with the necessary requirements and COVID-19 prevention measures that we ask all staff and visitors to comply with throughout our facilities. These apply to Oleo-tourism activities, visits to the Olive Grove Interpretation Centre, tastings in our 5 Elementos EVOO Experience Space and at Finca La Pontezuela, as well as for all our services and events in companies or held in third-party spaces.
The different activities will be carried out in small groups, of no more than 10 people, and maintaining the minimum safety distance of 1.5 metres when possible.
The use of masks is mandatory at all times, except during the 5 Elementos Extra Virgin Olive Oil tasting. During this activity, safety distances will be increased between participants.
Antiseptic gel dispensers are made available throughout the tour and during the activities so that visitors can frequently disinfect their hands.
Visitors and customers who present any coronavirus symptoms are kindly requested to contact La Pontezuela to cancel their reservation and/or activity. We thank you for your collaboration to help us make our spaces a safe place.
Provide us with your information and we will contact you as soon as possible.
Service available from Monday to Thursday from 08:30 to 18:00 and Friday from 08:00 to 15:00 (Madrid GMT +1)
Make your
reservation now.
To reserve or request information about the 5 Elementos Olive Grove Interpretation Centre, please complete the following form and we will contact you as soon as possible.
Reservation date (subject to availability):

Adults
Children 0 to 14 years old
Children 14 to 18 years old
BASIC INFORMATION ON DATA PROTECTION:
Responsible of the treatment:
Finca La Pontezuela, SLU informs you, in accordance with European Regulations on the protection of data 2016/679 of the European Parliament and of the Council of 27 April of 2016 related to the protection of data of the persons physical (RGPD), Pontezuela, SLU is responsible for the treatment of personnel data provided.
Purpose:
The personal data is processed to respond to your requests and provide you our services.
Advertising:
We will only send you advertising with your prior authorization, which you can provide us through communication and confirmation, establishing its use for this purpose.
Legal:
Only we treat your data with your prior consent and by checking the box of confirmation for this purpose.
Recipients:
Generally only our staff members that are duly authorized may have knowledge of the information requested.
Rights:
You can exercise your rights to access, modify, limit or delete data through communicating to
info@lapontezuela.com
.
Important Information
: You can check additional information and details on our Data Protection in our
Privacy Policy
of
lapontezuela.com
.