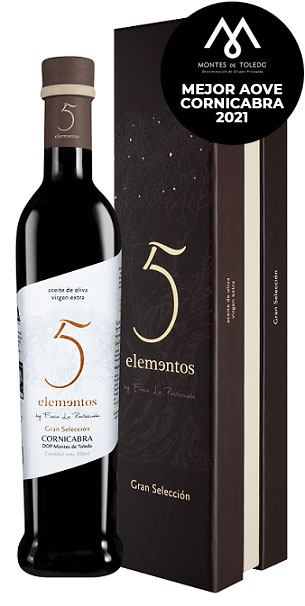 5 Elementos Gran Selección Cornicabra Gift Box 1×500 ml
5 Elementos Gran Selección Cornicabra Extra Virgin Olive Oil is a top quality EVOO. Elaborated exclusively from olives grown in selected plots in Finca La Pontezuela. Said olives are harvested and processed in just a few hours in a way which preserves all of their properties and organopletic and sensory attributes. A quality certified by the Montes de Toledo PDO.
This EVOO presents an extraordinary complexity of aromas and tastes. Our 5 Elementos Gran Selección Cornicabra is also characterized by a high intensity, which makes it ideal for pairing red meats and fishes of intense flavours. It is the perfect olive oil for true lovers of extra virgin. Our EVOO of superior quality.
The magnificent 500 ml Grand Selección Gift Box is ideal to give to family and friends, the perfect gift for any occasion.
Classification: Extra Virgin Olive Oil

Origin: Spain (Los Navalmorales - Toledo)

Size: 500ml

Acidity (FFA)

: less than 0.2 (max. For EVOO: 0.8)

Peroxides

: less than 4 (max. For EVOO: 20)
Buy now 5 Elementos EVOO
with all the benefits:








The olives for this EVOO are harvested at its optimum ripeness moment, allowing us to obtain an exceptional complexity of aromas. The groves are monitored, fruit in different plots are analysed and only those with the best qualities are selected for our 5 Elementos Gran Selección.
We strive for excellence by practicing year-round extensive grove management methods while controlling milling process operations to obtain an olive with a superior profile.
This is a very limited and exclusive edition of out of the ordinary oil that is without a doubt, one of the best EVOO in the world.
These oils are crafted from selected Finca La Pontezuela, estate grown, Picual, Cornicabra, Arbequinaand Hojiblanca olive varieties. They are harvested with care in the first hours of the day and milled immediately. It only takes a few hours from when the olive is on the tree and when it is transformed into juice, olive oil. This is key to preserving the natural properties in an authentic fruit juice. Our mill, just a few metres from our grove, permits us to obtain this high quality EVOO.
It is filtered after being extracted, allowing us to eliminate small particles of moisture and impurities. This process helps to increase the oxidative stability of EVOO (shelf life). These particles can begin to ferment over time and affect the quality of the product. After filtering, it is stored in small tanks containing nitrogen. The nitrogen acts as an inert barrier that keeps the oil from coming in contact with oxygen. These tanks are strategically positioned in our air-conditioned cellar, to avoid contact with light, oxygen and high temperatures – all factors that can deteriorate its organoleptic properties.
This oil presents fruity aromas of olives and other fruits. Notes of ripe apple and strawberry are dominant. It enters the palate sweet, with a moderate bitterness and slight pungency. The finish is fruity, principally sweet fruit with subtle hints of garden aromas and bitter almond.
Cornicabra Extra Virgin Olive Oil is fruity and aromatic with both well-balanced, moderate bitterness and pungency. Our 5 Elementos Cornicabra PDO Montes de Toledo is an EVOO that stands out for its medium intensity green fruitiness that is reminiscent of green olives, apple and aromatic herbs such as thyme and rosemary. It should also be noted that the oil presents aromas of red fruits. On the palate, it is balanced with a medium, pleasant bitterness and pungency and it has a clean, persistent finish.
The ratio or monounsaturated, polyunsaturated and saturated fatty acids together with its phenolic content makes this oil a very high antioxidant power and helps to prevent coronary diseases.
This EVOO is high in vitamin E, sterols and pigments, making it one of the varieties with the most beneficial health properties.
To pair Extra Virgin Olive Oil one must have a minimum knowledge of the attributes each variety has and how they interact with each food or recipe. A consumer may have an EVOO variety preference. This can be due to its intensity, complexity or harmony. To get started, follow the suggestions for the Organic Cornicabra variety.
Cornicabra Organic Extra Virgin Olive Oil has a medium intensity so it generally pairs well with foods that it complements and does fight with other medium intensity foods.
In the kitchen, Cornicabra Organic Extra Virgin Olive Oil is highly recommended for frying (it maintains its properties at high temperatures), red meats, breaded foods, battered foods, stews, in preserves and raw as a dressing in salads or on toasts or pizzas. It also is delicious in cold soups, desserts, on red meat and medium-flavoured fish, such as salmon or cod.
It is preferable to select a more mild variety of Extra Virgin Olive Oil in dishes with lighter flavours, such as white fish, emulsions, sauces or desserts since the high intensity of this oil can overpower the plate.
Average values per
100 ml.
Energetic value
900 kcal / 3,700 kJ
Total Fat (100g): of which
Saturated
14 g.
Monounsaturated
78 g.
Polyunsaturated
8 g.
Total Carbohydrates:
Sugars
0 g.
Poly-alcohols
0 g.
Starch
0 g.
Dietary Fibre
0 g.
Protein
0 g.
Sodium
0 g.
Vitamins and minerals
0 g.
The radial diagram offers a visual representation of the properties of each oil.
DO YOU HAVE ANY QUESTIONS ABOUT THIS OR OTHER PRODUCTS IN FINCA LA PONTEZUELA?
Provide us with your information and we will contact you as soon as possible.
Service available from Monday to Thursday from 08:30 to 18:00 and Friday from 08:00 to 15:00 (Madrid GMT +1)
DO YOU HAVE ANY QUESTIONS ABOUT THIS OR OTHER PRODUCTS IN FINCA LA PONTEZUELA?
Provide us with your information and we will contact you as soon as possible.
Service available from Monday to Thursday from 08:30 to 18:00 and Friday from 08:00 to 15:00 (Madrid GMT +1)
Discover other related products