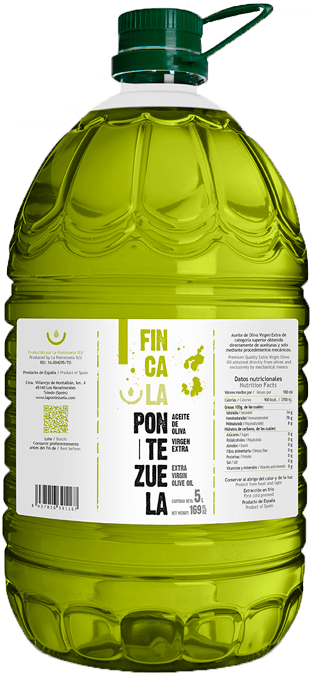 Finca La Pontezuela Arbequina 5L
The unique climate conditionsFinca La Pontezuela is key to exceptional quality of our Arbequina Extra Virgin Olive Oil. This recently planted variety is able to perfectly adapt to cold climates and adapt to the specific environmental conditions. Its herbaceous aromas and sweet fruit characterise this EVOO, which is often the preferred choice for new consumers and children.
Also noteworthy, is its high concentration of volatile minority components that are obtained by using careful production techniques and result in a unique aroma.
Classification: Extra Virgin Olive Oil

Origin: Spain (Los Navalmorales - Toledo)

Size: 5L

Acidity (FFA)

: less than 0.2 (max. For EVOO: 0.8)

Peroxides

: less than 6 (max. For EVOO: 20)
Buy now 5 Elementos EVOO
with all the benefits:








Out of stock
¿Te avisamos cuando vuelva a estar disponible?
The name of the Arbequina variety comes from the Catalan town of Arbeca. It was the Duke of Medinaceli and Barón de Arbeca who introduced this variety to Spain, originating from Palestine. Its primary areas of production are Catalonia and Aragon, although today this variety has been planted in Spain as well as around the world. It is recognised for its great potential in intensive and super-intensive production.
Its harvest time is quite early and the per-tree yield is high, as is, its fat content. The variety is cold resistant and has a tolerance to a number of common olive diseases.
The fruit is small and round. The small size can be a problem in its collection using tree shaker however it can is very well adapted to super-intensive collecting systems.
Due to its low oleic acid content, it has a very low stability. However, this characteristic is also what makes it a mild oil and more acceptable to new consumers to EVOO and young palates.
Harvesting date: October - November, early harvest.
Irrigation: Automated system with humidity sensors.
Collection system: Tree shakers are used to help fruits to detach directly from the tree without touching the ground. Hitting the tree with poles is avoided which helps to maintain our trees healthy.
Harvesting temperature: Harvesting during high temperatures is avoided. The workday is shortened according to very hot periods (higher than 35°C/ 95ºF).
Time between harvest and milling: Less than 3 hours.
Production system: Continuous two-phase system, cold extraction (below 27°C/ 80ºF), contact with water is minimized.
Filtration: Continuous filtration after the extraction process to remove moisture and impurities that may remain in our olive juice and can shorten shelf life.
Storage: Stainless steel tanks preserved with nitrogen.
Colour: Gold.
The oil has notes of delicate fruity olive and other fruits, the fruity notes of apple, pear, green banana, green almond and light herbal aromas are perceived.
On the palate it is sweet, very elegant, the bitterness almost imperceptible with a well balanced pungency. The aftertaste is very fruity, predominantly sweet fruit, green banana and subtle hints of green almond.
There is harmony, complexity and balance between the olfactory and gustatory sensations of this Arbequina Extra Virgin Olive Oil.
The delicate fruity characteristics and low-scoring bitterness and pungency make this EVOO perfect for those looking for a mild oil that adds subtle flavours to their recipes. The complexity of this Arbequina EVOO provides a range of sweet fruits and herbaceous green notes that pair perfectly with delicate foods.
The majority of the healthy components can be identified as volatile components that provide a very special and complex aroma, which cannot be found in other oils. These are typical aromas of natural fruit juice, only obtained by mechanical procedures. The ratio between monounsaturated, polyunsaturated and saturated fatty acids is ideal for preventing coronary heart disease and reducing bad cholesterol (LDL) and increasing good cholesterol (HDL).
To pair Extra Virgin Olive Oil one must have a minimum knowledge of the attributes each variety has and how they interact with each food or recipe. A consumer may have an EVOO variety preference. This can be due to its intensity, complexity or harmony. The Arbequina variety is great to get started.
The characteristics of Arbequina Extra Virgin Olive Oil are delicate, so it should be used in foods that it best complements.
Organic Arbequina Extra Virgin Olive Oil is ideal on foods with mild flavours like white fish, emulsions, white meat (chicken, turkey), sauces or desserts.
On the other hand, other varieties such as Picual or Cornicabra are preferable for foods with intense flavours, such as red meat or dishes with more intense flavours like stews, fried foods, and batters.
Average values per
100 ml.
Energetic value
900 kcal / 3,700 kJ
Total Fat (100g): of which
Saturated
14 g.
Monounsaturated
78 g.
Polyunsaturated
8 g.
Total Carbohydrates:
Sugars
0 g.
Poly-alcohols
0 g.
Starch
0 g.
Dietary Fibre
0 g.
Protein
0 g.
Sodium
0 g.
Vitamins and minerals
0 g.
The radial diagram offers a visual representation of the properties of each oil.
DO YOU HAVE ANY QUESTIONS ABOUT THIS OR OTHER PRODUCTS IN FINCA LA PONTEZUELA?
Provide us with your information and we will contact you as soon as possible.
Service available from Monday to Thursday from 08:30 to 18:00 and Friday from 08:00 to 15:00 (Madrid GMT +1)
DO YOU HAVE ANY QUESTIONS ABOUT THIS OR OTHER PRODUCTS IN FINCA LA PONTEZUELA?
Provide us with your information and we will contact you as soon as possible.
Service available from Monday to Thursday from 08:30 to 18:00 and Friday from 08:00 to 15:00 (Madrid GMT +1)
Discover other related products