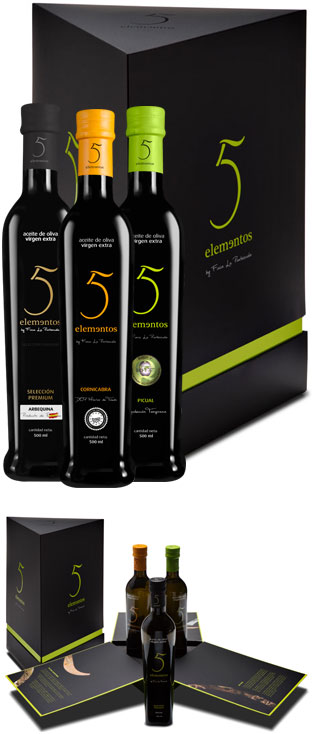 Prism Box Set 3x 500ml
The original triangular, prism-shaped gift box exclusively includes three bottles of 500 ml of 5 Elementos Extra Virgin Olive Oils: Picual, Cornicabra PDO Montes de Toledo and Arbequina.
Get to know the versatility of our varieties with this set. Each olive oil has a different level of intensity and varying sensory attributes. These EVOOs allow for diverse pairings for each of our favourite dishes.
Each variety provides different attributes and intensities:
Picual: Robust, with primary herbaceous attributes and tomato that are ideal for salads or red meat.
Cornicabra: Medium-high intensity with fruity and aromatic herbs notes including apple, thyme and rosemary. Perfect to use on toasts, pizzas, soups or intensely flavoured fish.
Arbequina: Mild and delicate with fruity aromas: apple, pear and banana. This EVOO helps to increase the complexity of our dishes with subtle flavours such as white fish, white meats and soups.
This magnificent 5 Elementos EVOO trio is the perfect gift for family and friends.
We invite you to discover new sensations in this 5 Elementos Prism Box Gift Set and to use your imagination to explore new and surprising pairing combinations.
Classification: Extra Virgin Olive Oil

Origin: Spain (Los Navalmorales - Toledo)

Variety: Picual, Cornicabra and Arbequina

Size: 3x500ml

Acidity (FFA)

: less than 0.2 (max. For EVOO: 0.8)

Peroxides

: less than 4 (max. For EVOO: 20)
Get your 5 Elementos EVOO
with all the benefits:








DO YOU HAVE ANY QUESTIONS ABOUT THIS OR OTHER PRODUCTS IN FINCA LA PONTEZUELA?
Provide us with your information and we will contact you as soon as possible.
Service available from Monday to Thursday from 08:30 to 18:00 and Friday from 08:00 to 15:00 (Madrid GMT +1)
DO YOU HAVE ANY QUESTIONS ABOUT THIS OR OTHER PRODUCTS IN FINCA LA PONTEZUELA?
Provide us with your information and we will contact you as soon as possible.
Service available from Monday to Thursday from 08:30 to 18:00 and Friday from 08:00 to 15:00 (Madrid GMT +1)
Discover other related products